E-Learning Design and Development
The E-Learning Design and Development online certificate provides students with broad exposure to principles and applications of e-learning. Students will learn the analysis, design, evaluation and implementation of instruction using learning management systems and emergent technologies. Designed for learning professionals from any field, this program introduces design theories and builds technical skills from writing effective script treatments to prototyping and authoring content. Certificate requirements are intended to provide students with the core competencies needed by instructional designers, corporate training managers, and other learning professionals.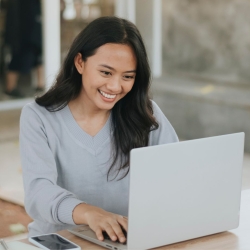 Online Certificate
Earn the certificate online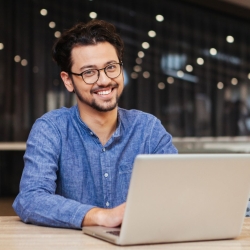 Class Schedule
Online classes currently offered
News and Events
Video Information Session
Hear from faculty and staff, and learn more about our E-Learning courses and certificate in this video.
About the Program
What is E-Learning Design and Development?
E-Learning is the use of digital technology to facilitate and enhance learning and training. This use of technology has become so important in today's world that high schools, colleges, government organizations, nonprofit institutions and businesses both large and small use e-learning to educate, train, inform and coach.
Many people think of e-learning as traditional academic courses delivered over the internet. While this is certainly true, e-learning encompasses much more. Anyone who has taken driver's training online, used computer-based tech support for a PC, watched educational videos on television, listened to a podcast, or read a professional blog, has reaped the benefits of an e-learning product. Nearly all industries today use e-learning to further professional goals.
E-Learning Design and Development is an emerging and valuable career track for anyone looking to expand a professional portfolio. A certificate in E-Learning Design and Development gives you the opportunity to take your professional experience and unique industry knowledge and apply it in a new direction, while gaining proficiency with cutting edge technology.
What You Will Learn
Students earning the online E-Learning Design and Development certificate will be able to discuss and apply:
Principles of instructional design to e-learning, including learning theory, evaluation techniques, asynchronous learning principles and hybrid instruction styles
Effective writing and script treatment strategies, storyboarding and preproduction planning for multimedia
Principles and tools for audio-visual media production as they apply to e-learning development
Distribution, deployment and publication methods
Administration and production using open source content learning management systems
Principles of usability testing, including e-learning interventions, formative evaluation, data analysis and report writing
Authoring and content production techniques, using industry standards
Intended Audience
The program is designed for learning professionals in corporate training, human resources, curriculum development, communications and enterprise level strategic implementation. Our students come from businesses, local governments, nonprofits and traditional academic institutions, who all need to create and deploy e-learning. This program will most benefit entry-level and intermediate-level designers, educators and managers who lack formal training in e-learning and instructional design.
Cost and Length of Program
Cost: $2,545
Length: 105 hours / 2 semesters (Up to 3 years)
When to Start: Fall, Spring, Summer
The time it takes for participants to complete a certificate varies according to each student's availability and interests. The classes required to earn a certificate may be completed in as short a time as two semesters, or students may take as long as needed, up to three years. Course materials are included in the online classes.
ITEC 9830 requires access to Captivate software. Students may purchase the software or sign up for a free 30-day trial subscription.
Location and Frequency of Classes
All classes are offered online using the SF State Learning Management System, Canvas. Course sequences begin three times per year in late August, late January and early June. Class schedules will vary based on course content, but most offer synchronous meetings each week, which are recorded for student review. Students are expected to commit a minimum of four to six hours of study/production time outside of class per course. Out of class requirements vary among courses.
CalJOBS
CalJOBS connects dislocated workers with employment training opportunities. SF State is an eligible training provider.
Customized and Contract Training
Customized or corporate training is available for businesses or agencies seeking to train employees in e-learning development or other aspects of instructional design. For more information please contact us.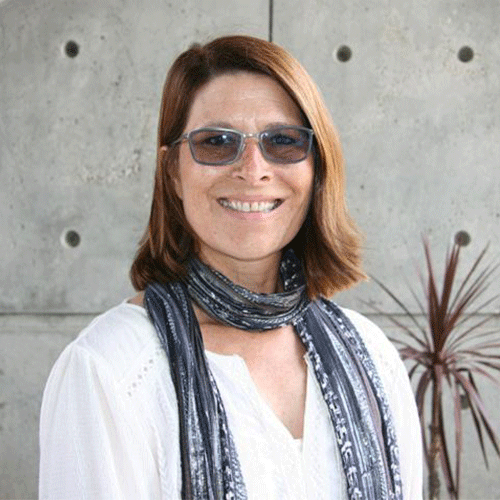 What Students Say
"If you work full time, I'd recommend taking one class at a time. This has worked well for me and allowed me to really throw myself into the content so that I could gain the most from it. The classes are short enough in length that I was able to complete three of them over a traditional spring semester (back-to-back courses)."
- Christine Miller, Student