Erik J. Pelayo, PMP®, SPHR®, GPHR®, SPHRi™, SHRM-SCP®, PHRca®, CPHR
How did you find out about the HRM program?
I was informed about the HRM program by searching for a good program that would equip me to enter the Human Resources sector and give me that real-world perspective and experience that I was looking for. Having completed my undergraduate career at SF State (Bachelor of Arts, International Relations, Class of 2013) and loving how SF State gives you that real-world experience and equips you for the workforce, it was a no-brainer to complete the HRM program at my alma mater that I hold dear to [my] heart.
What motivated you to take the program?
I am the type of professional who is always seeking opportunities where I can learn and grow from real experienced professionals who have been working on the grassroots level. The high-caliber education and professional instructors… at SF State have always challenged me to keep growing as a person and as a professional in the ever-competitive job market.
What drew you to SF State?
Being a very proud SF State alumni, I knew that if I wanted to pursue any further professional and career development SF State was definitely going to be the most affordable as well as prepare me the best for a new field that I had no previous experience with. After having gone through the HRM program at SF State, I have realized that I have become more competitive and that much more knowledgeable in the competitive HR workforce. My excellent HRM instructors as well as [the program director] have gone above and beyond to ensure that if I needed anything, they would be there for guidance and support, which as a professional I appreciate with all of my heart.
What did you like most about the program?
What I enjoyed the most about the program was meeting a great network of professional peers who were either in the HR field or wanted to pursue a career within HR. I have become very close to many in my HR professional network, and we hold each other accountable to be our best selves. Additionally, I really admire many of the instructors within the HRM program who go above and beyond to ensure that we are very ready to go into the HR field.
What advice would you give to those entering the program?
The advice I would give to professionals entering the HRM program is to fully take advantage of the diverse range of course offerings that you feel will prepare you to be the type of HR professional you want to become or, if you are already in the field, the type of HR professional who will continue to learn and grow within the profession. In addition, really feel free to get out of your comfort zone and get to know your fellow classmates and fellow HR professional peers; having a strong support network of like-minded professionals helps you to keep growing and flourishing as a professional in our global society. Plus, you never know what opportunities may arise when you start connecting with others within your classes.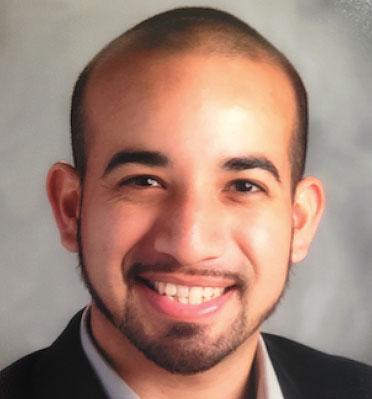 What Students Say
"Scott Hernandez is a passionate, happy, smart, funny, very experienced recruiter who gives 110% of his heart and knowledge in every class. Will get you pumped up about recruiting!"
Daina Holmberg, HR Manager, HeartFlow, Inc.
"I thought it was an informative class, and I came away feeling like I would be a lot more mindful about all the facts of any particular situation."
Elizabeth Keith, Receptionist, Boudin