Clinical Medical Assistant (CMA)
Certificate Course with 160-Hour Clinical Externship - Take the in-person/online hybrid CMA course in Downtown San Francisco/online or take the self-paced online course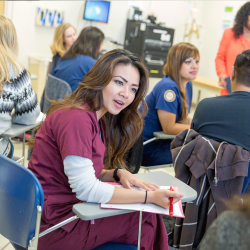 In-Person/Online Hybrid Courses
Downtown San Francisco/online hybrid CMA classes
Online Course
CMA self-paced online course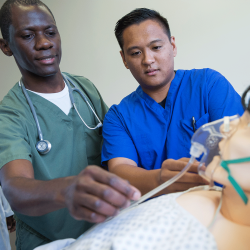 Get Started
How to register and start taking CMA classes
News & Events
About the CMA Program
What You Will Learn
This course will prepare students with the necessary training and skills to assist physicians by performing functions related to the clinical responsibilities of a medical office. Instruction includes among other things preparing patients for examination and treatment, routine laboratory procedures, diagnostic testing, technical aspects of phlebotomy and the cardiac life cycle.
Students will review important topics including phlebotomy, pharmacology, the proper use and administration of medications, taking and documenting vital signs, cardiology including proper lead placements, a professional workplace behavior, ethics and the legal aspects of healthcare.
Prepare for Certification
Upon successful completion of this course, students are eligible to sit for the National Healthcareer Association (NHA) Certified Clinical Medical Assistant (CCMA) national certification examination.
In addition to facilitating entry-level clinical medical assisting related positions, this course is ideal for students interested in pursuing a future formal Certified Medical Assistant (CMA), Nursing (LPN) or a Nursing (RN) program.
This course does not qualify students for certification in Washington State.
The CMA Profession
Medical assistants perform routine clinical tasks to keep the offices of physicians, podiatrists, chiropractors and optometrists running smoothly. Clinical duties may include taking medical histories and recording vital signs, explaining treatment procedures to patients, preparing patients for examination, and assisting the physician during the examination. Medical assistants collect and prepare laboratory specimens or perform basic laboratory tests on the premises. They instruct patients about medication and special diets, prepare and administer medications as directed by a physician, authorize drug refills as directed, telephone prescriptions to a pharmacy, draw blood, prepare patients for X-rays, take electrocardiograms and change dressings.
CMA Employment
Upon successful completion of the Clinical Medical Assistant course you will have the skills necessary to gain employment in a number of capacities. Job opportunities will be prevalent in physician's offices, clinics, chiropractor's offices and outpatient facilities. Employment of medical assistants is expected to grow 18% between 2020 and 2030.
Cost and Length
In-Person/Online Hybrid CMA Course
Cost: $2,599
Length: 2.5 - 3 Months
When to Start: Fall, Spring, Summer
Self-Paced Online CMA Course
Cost: $2,599
Length: Up to 9 months (6 months access with possible 3-month extension)
When to Start: Fall, Winter, Spring, Summer
CalJOBS
As a result of the Workforce Innovation and Opportunity Act (WIOA) of 2014, CalJOBS provides connections to customer-focused employment training for adults and dislocated workers. SF State is an approved provider for WIOA funds. SF State is listed on the Eligible Training Provider List (ETPL) on the CalJOBS website.