Two-Week In-Person Program
The English Teacher Training Program is customized to meet the needs of primary, secondary or higher education English educators. The program is adapted for undergraduate and graduate students, including in-service teachers. Instruction is provided by faculty from the San Francisco State University (SF State) English Department, M.A. TESOL Program and the College of Professional & Global Education. The program focuses on relevant training and mentoring based participants' pedagogical contexts. This intensive two-week program provides 60 hours of learning experiences including instructional sessions with faculty, group work, school visits, classroom observations, meetings with local teachers and cultural enrichment activities.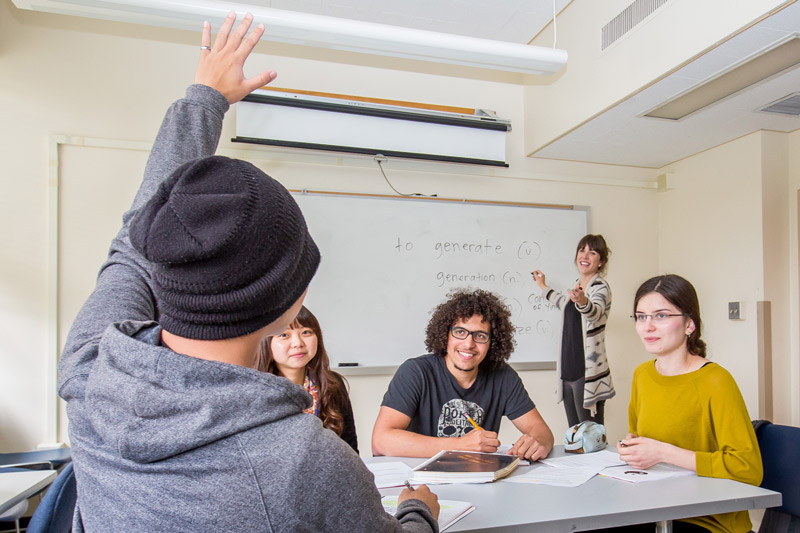 Program Goals
Goals are customized based on the needs of participants in English as a Foreign Language (EFL) and English as a Second Language (ESL) contexts. In a typical program participant will achieve the following learning objectives:
Deepen understanding of current English teaching theory and methodology, particularly the Communicative Language Teaching Approach
Learn new teaching methodologies for reading, writing, speaking, listening and academic skills development
Develop best practices in curriculum design, lesson planning and sourcing materials
Gain methods for assessing and evaluating students
Learn to use technological tools and digital resources for teaching English
Engage and collaborate towards a common goal in group work projects
Grow your network of U.S. and international educators and engage in cultural exchange
About the Program
Program Faculty
Seminars and workshops will be facilitated by staff, University faculty members, teacher trainers and local school leaders. The following are faculty who have provided instruction for past teacher training programs.
Tenured Faculty:
David Olsher, Associate Professor, M.A. TESOL Program
Priyanvada Abeywickrama, Professor, M.A. TESOL Program
Robert Kohls, Assistant Professor, M.A. TESOL Program
Maricel Santos, Associate Professor, M.A. TESOL Program
Jerald Combs, Professor Emeritus, History
Sheldon Gen, Associate Professor, Public Administration
English Language Instructors:
Anita Seralathan, M.A. TESOL, Faculty at University of San Francisco
Katherine Cornelius, M.A. TESOL, Faculty at San Francisco State University
Lina Jurkunas, M.A. TESOL, Fulbright Language Teaching Fellow
Julia Schulte, M.A. TESOL, Faculty at San Francisco State University
Lea Gabay, M.A. TESOL, English Language Fellow Program Alumna
The list above is not comprehensive and additional faculty and/or language instructors may be engaged in the program. Faculty and instructors are selected based on meeting the needs of the students and program objectives.
Program Curriculum
Language Teaching Methodologies
Types of Learners
Communicative Language Teaching
Reading and Writing Teaching Methodology
Listening and Speaking Teaching Methodology
Pronunciation Teaching Methodology
Assessing Student Learning
Instructional Technology
Optional Topics
English and STEM Integrated Instruction
Content and Language Integrated Learning (CLIL)
English Medium Instruction (EMI)
Motivation and Classroom Management
Educational Leadership
English language development and presentation skills for participants
Classroom Observations and Culture Site-Visits
Classroom Observation Experiences and Meetings with Teachers
Cultural Enrichment Trips
Pre-Program Survey
Once participants are confirmed, they will be asked to complete a brief pre-arrival survey about their backgrounds and areas of interest. Survey responses will help guide administrators and faculty in developing relevant curriculum and activities to meet participant needs.
English Teacher Training Two-Week In-Person Program • Sample Schedule
Sample Schedule
Time
Monday
Tuesday
Wednesday
Thursday
Friday
WEEK 1
AM
Orientation
 
Campus Tour
Overview of Teaching Methodologies
Classroom Observation 1
Communicative Language Teaching
Listening and Speaking Teaching Methodology
 
Pronunciation Teaching Methodology
WEEK 1
PM
Cultural Enrichment: San Francisco Bay Cruise
Types of Learners
 
Observation 1 Preparation
Observation 1
Debrief
 
Communicative Language Teaching
Listening and Speaking Teaching Methodology
Cultural Enrichment:
de Young Fine Arts Museum
WEEK 2
AM
Reading and Writing Teaching Methodology
Classroom Observation 2
Assessing Student Learning
Instructional Technology
Final Presentations
WEEK 2
PM
Reading and Writing Teaching Methodology
 
Observation 2 Preparation
Observation 2 Debrief
 
Final Presentation Preparation
Assessing Student Learning
 
Final Presentation Preparation
Cultural Enrichment: Mission Dolores
Closing Ceremony and Celebration
Program Includes:
Unlimited San Francisco Public Transportation Pass, Municipal Railway (Muni)
Cultural Enrichment Activities
Online Pre-Departure Orientation
Certificate of Completion
Custom Scheduling for Custom Groups of 15 or More
Optional:

Roundtrip Airport Transportation
Organized Evening Activities and Weekend Trips
Visa
F-1 student visa not required. Participants can enter the U.S. on B-2 or visa waiver.
Fee
$1,600 per participant. 15 people minimum.
The fee does not include visa, insurance, meals or individual expenses.
Housing
We provide help with on-campus and off-campus accommodations. On-campus housing is only available in the summer.
SF State Campuses
The main campus is located in a quiet and safe neighborhood near the Pacific Ocean. The Downtown Campus is located in the heart of the business district, near social media companies — including Twitter, Pinterest and Yelp — and new economy companies, including Airbnb and Uber.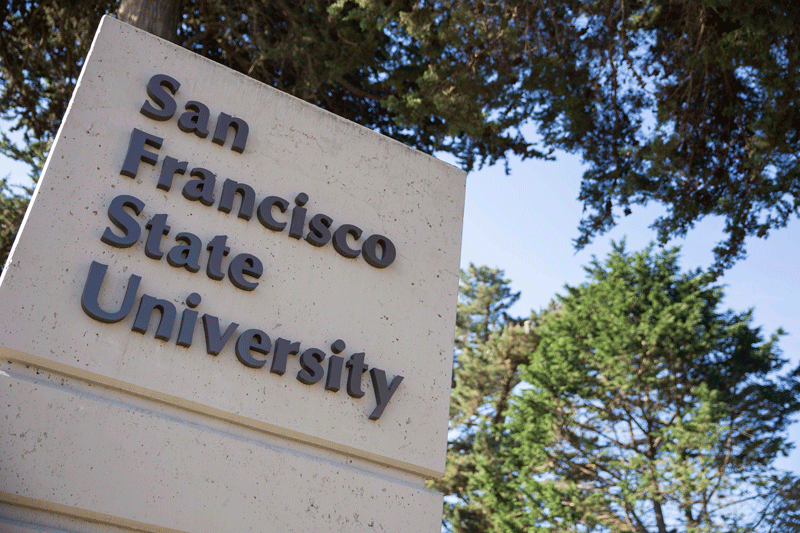 Contact Us