Pharmacy Technician
The Pharmacy Technician certification course with 80-hour clinical externship is offered as an in-person/online hybrid course in Downtown San Francisco/online or as a self-paced online course. Prepare to work as a pharmacy technician in a retail or other pharmacy setting.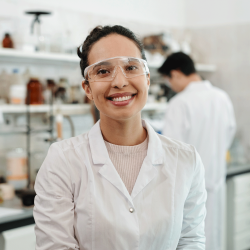 In-Person/Online Hybrid Course
Take the course in Downtown San Francisco and online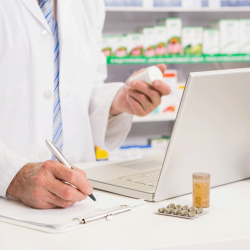 Self-Paced Online Course
Take the course online, on your schedule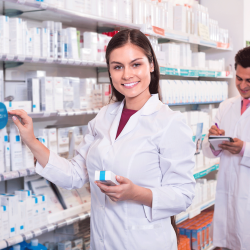 Get Started
How to start taking Pharmacy Technician classes
News & Events
About the Pharmacy Tech Program
Prepare for PTCB Certification
Our comprehensive online or in-person course will prepare students to work as a pharmacy technician in a retail or other pharmacy setting and to take the Pharmacy Technician Certification Board (PTCB) exam.
The Pharmacy Technician Profession
Pharmacy Technicians work under the direction of a pharmacist. Their main responsibility is filling prescriptions according to doctors' orders.
Pharmacy Technicians prepare medications for dispensing to patients. This generally includes retrieving drugs in the correct dosage form and strength, measuring the appropriate amount of drug and producing a prescription label. Pharmacy Technicians work with drugs to be administered orally, topically, for the eye, nose etc. Depending upon the practice setting, a Pharmacy Technician is also involved in the admixture of drugs for intravenous use.
Other duties include:
checking inventories and ordering supplies
receiving and checking in supplies
assisting customers
keeping pharmacy work areas clean
completing insurance forms
preparing "bingo cards" for nursing home patients
Employment
Pharmacy Technicians may work in retail pharmacies, mail order pharmacies, home infusion pharmacies, long term care facilities, hospitals, clinics, pharmacy benefit managers and large industrial complexes. This high demand is the result of the constant availability of new drugs, the national shortage of registered pharmacists, the establishment of certified pharmacy technicians and the aging population. Employment of pharmacy technicians is expected to grow 4% by 2029.
Cost and Length
In-Person/Hybrid Pharmacy Technician Course
Cost: $1,399
Length: 2 - 3 Months
When to Start: Fall, Spring, Summer
Self-Paced Online Pharmacy Technician Course
Cost: $1,399
Length: Up to 9 months (6 months access with possible 3-month extension)
When to Start: Fall, Winter, Spring, Summer
CalJOBS
As a result of the Workforce Innovation and Opportunity Act (WIOA) of 2014, CalJOBS provides connections to customer-focused employment training for adults and dislocated workers. SF State is an approved provider for WIOA funds. SF State is listed on the Eligible Training Provider List (ETPL) on the CalJOBS website.